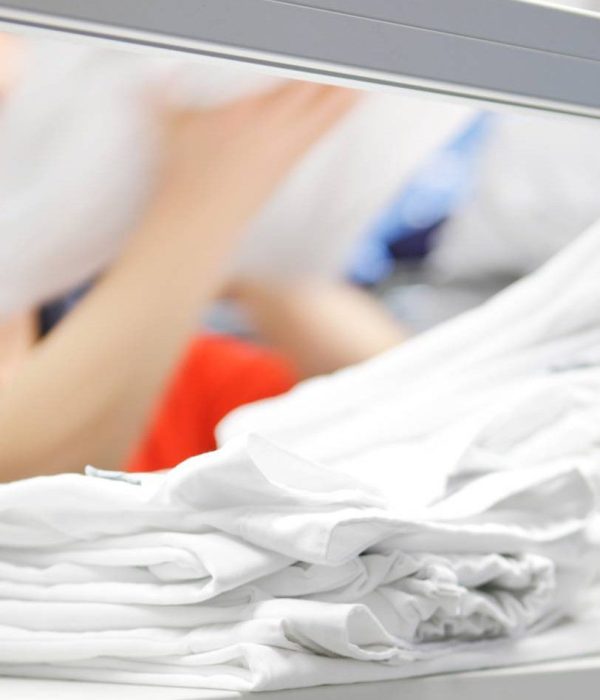 Visibility and productivity for Lindström's production
process through RFID
#RFID solutions    |    #production management    |   #process automatization

To improve customer service and increase supply chain performance
Lindström had a challenge, since the number of individual workwear had multiplied during the last years, and so had the central Stock Keeping Unit (SKU). To improve customer service, Lindström wanted to reduce warehousing, which took plenty of resources and was slow. The way to do this was to speed up the order and delivery process. Manufacturing needed better steering, more visible and quicker process and more accurate control of the production flow. The goal was to enable to follow of each order status on real time.
The challenge was solved by establishing a new modern factory in Latvia and by using new working methods in managing work orders and manufacturing process. After improvements, the workwear is now manufactured and delivered to clients directly on order.
Intelligent RFID technology for managing manufacturing process
Lindström's need was first crystallized and the POC was done in RFID pilot. The critical locations, which needed to be identified in order to improve the production flow and follow-up, were planned together with the client.
The new RFID solution, FENTEC HAAVI Platform for data collecting, was taken in use at the factory. With the RFID system, each individual textile and manufacturing set could be followed phase by phase. The RFID tag is attached to each textile, which enables following where the textile is located in the production. RFID readers are set in critical locations in manufacturing process, such as cutting, sewing, packaging and dispatch. The data gained from the RFID readers is sent directly to factory's internal Advanced Planning System (APS) and Manufacturing Execution System (MES), as well as to salaries, over the interface. Through these systems, data is also forwarded to Warehouse Management System (WMS), which controls the fabrics and accessories. The equipment and systems involved are managed through web user interface.
The production flow is monitored through an application, where it is seen in which phase of manufacturing process each client's textile is located, at what pace the process will continue and which textiles are already packed. In addition to real time status and visibility of the client's order, the total amount of textiles passing a certain manufacturing phase, can be followed. This data also helps in salary payment, since employees are paid based on production output and the number of minutes made. Without RFID, the counting would be manual work.
Individual textiles can be followed also after packaging if needed, e.g. in logistics or later at the laundry. The RFID tag is in use during the entire textile life cycle.
Better customer service with real time visibility and transparency of production
The goal, to enhance the supply chain and visibility in production, was accomplished. For clients, this means better service. The plans to build up more capacity in the near future also tells about the customer satisfaction.
The following results were achieved with the RFID Solution:
The real-time production process status and the client's order status are visible in both Latvia factory and in the Head Office in Helsinki. The Head Office will make decisions based on monitoring, such as forecasts to suppliers. The work order and production management are done at Latvia factory.
The total lead time is shortened from several months to less than one week.
The manufacturing lead time is speeded up from 4-5 weeks to one day.
RFID enables measuring productivity, which helps in the salary payments (=number of minutes and production outcome)
Automated process reduces manual work and has increased productivity remarkably.
The factory productivity (minutes and textiles produced, productivity and profitability) has clearly been above the set goals and textile industry standards (minimum 10-15%). The productivity is based on LEAN method and management system, where RFID is a significant tool in managing the factory as well as in helping the usage of separate production methods and systems.
Enhanced supply chain improves customer satisfaction.
"Finding a solution for the client's needs is a top priority. We value the competence, client understanding and flexibility at FENTEC (former Toptunniste). FENTEC delivers what they promise. They found just the right solution for us", says Jarmo Vahtervuo.
LINDSTRÖM GROUP
Lindström is one of Europe's leading textile service companies with over 165 years of experience in the textile industry. We offer solutions for the cleanliness and interior design of facilities, corporate clothing and protection. Lindström offers workwear rental in all its 24 countries of operation.
www.lindstromgroup.com
#RFID #RFIDsystem #HaaviPlatform #identification #tracking #visibility #production management #datacapture #BetterKnowledge #Lindströmgroup #FENTEC
Interested in SOLUTIONS for automatic identification?
We are happy to help! Contact us at sales@nullfentec.fi or phone +358 (0)10 841 0330, or feel free to drop us a message below.