SELECT FENTEC 24/7 CABINET™
A COMPLETE ASSET TRACKING SOLUTION FOR UNMANNED 24/7 SELF-SERVICE STORAGES
CUSTOMIZE FEATURES
AVAILABLE FOR BOTH CABINETS - STANDARD AND LITE
Custom colour & branded elements to suit your organization style

Transparent doors

Display

Led lights inside

Access control technology
REQUEST MORE INFO
FENTEC 24/7 CABINET™ SOLUTION
FENTEC 24/7 Cabinet™ is a complete solution consisting of a ready-to-run compact smart cabinet with an easy implementation and seamless integration to backend systems. FENTEC 24/7 Cabinet is part of a functional warehousing or supply solution, that helps automatize your service concept and grow your business. The solution improves service and productivity, freeing you to focus on your core business.
ASK MORE OR BOOK A DEMO
WHERE TO APPLY?
FENTEC 24/7 Cabinet™ is applicable in many business sectors for easy product supply on-site:
Industrial / manufacturing sites
Maintenance and repair services
Spare part services
Hospitals and health care
Hotels
Offices
Point of service: sales / rental / lend
Read our Customer stories to see how we helped them succeed and resolve their challenges.
If you consider enhancing product supply, service and warehousing processes, we are happy to help you find the right solutions.
CONTACT US
KEY BENEFITS
24/7 SERVICES FOR UNMANNED HUBS
FENTEC 24/7 Cabinet™ offers easy access and product availability for authorized users. The cabinet stands-out with an excellent reading performance for over 1000 items in less than 10 seconds!
The cabinet is easily placed at customers' premises or at the point of use, i.e. in manufacturing sites, warehouses or offices. Automated and unmanned self-service stores provide products just in time at the right place, ensuring smooth workflow with the material & tools needed.
Always open FENTEC 24/7 takes care of service for you!
AUTOMATED REAL-TIME INVENTORY
FENTEC 24/7 Cabinet™ makes an automatic inventory after each interaction. Automated inventory saves manual work when the product balances can be managed remotely and across organizations.
Real-time inventory tracking increases visibility and enhances operations management. Product consumption can be followed-up, reporting and resource planning are improved. Product consumption tracking assists customers in allocating products and expenses better. This leads to cost savings due reduced product loss.
EASY DEPLOYMENT AT POINT OF USE
FENTEC 24/7 Cabinet™ is easy to set up at any point of use. Just plug & play and the cabinet is ready to roll. The cabinet uses RFID (radio frequency identification) technology for access and inventory reading. The items placed inside cabinet are equipped with an RFID or NFC tag. The cabinet identifies items automatically, when placed inside a storage or removed.
DISPLAY ENABLING RENTAL, LENDING & SALES
FENTEC 24/7 Cabinet™ with Display offers new features in managing a cabinet as a point of service. Real-time product information is available via display without accessing the cabinet. The application shows if the product is available for sales, rental or lending, and informs about expiry dates or if the product is reported to be out of order or  the date of maintenance is soon to be expired. Service providers also stay up-to-date of the need for maintenance.
The user is able to add cost center or reference to intake, hence the same cabinet storage can be used by several organizations.
USER AUTHENTICATION & SECURE ACCESS
FENTEC 24/7 Cabinet™ is accessible with personal identification card only, which secures the usage. Products supplied do not end-up in wrong hands. The solution enables tracking the individual user, what items were taken from stock and when. The consumption data helps allocating the resources and expenses correctly.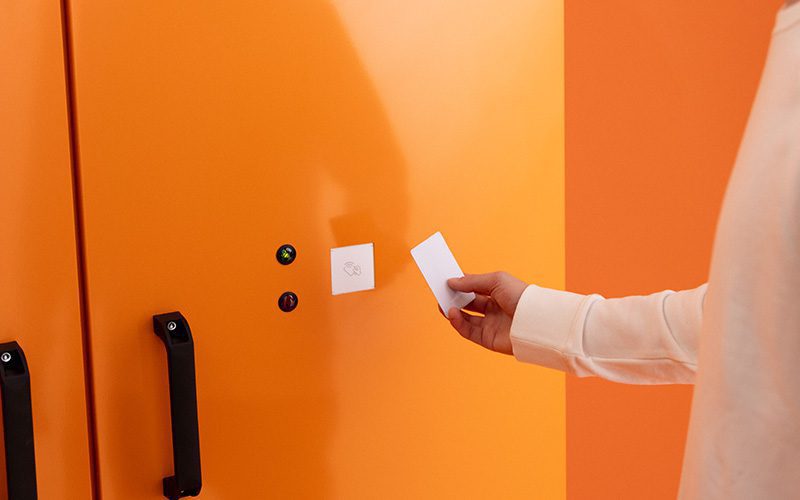 SEAMLESS INTEGRATION TO BACKEND SYSTEMS
FENTEC 24/7 Cabinet™ comes with a comprehensive API and can be seamlessly integrated into cloud or backend systems, such as ERP. This enables automatic reorders from stock directly to 3rd party systems, when the product balance alerts.
Remote management, software updates and integrations are managed via scalable cloud-based FENTEC 24/7 Device Management™.
NO MORE STOCK-OUTS
Real-time stock inventory provides up to date data of the content in store. Automatic order system places reorders directly to ERP or customer cloud when the system alerts. Automated solution reduces operative tasks such as manual checks of refillment need.
Your stock is always up to date. No more stock-outs with FENTEC 24/7.
MINIMIZED WASTE AND PRODUCT LOSS
Tagged products in FENTEC 24/7 Cabinet™ can be tracked by given data, e.g. product information and expiration dates. This assists in keeping the products valid and minimizing waste. Allocating resources minimizes product loss and leads to cost savings.
Improve your energy-efficiency with FENTEC 24/7!
SALES FORECASTING THROUGH CONSUMPTION
FENTEC 24/7 Cabinet™ provides real-time sales data for optimizing business operation. Visibility to long-term consumption patterns enables detailed sales forecasting and business development.
FENTEC 24/7 helps grow your business.
TECHNICAL SPECIFICATIONS
Dimensions: 1200 x 1888 x 576 mm (w x h x d)
Weight: 130 kg
Product capacity: 1000 pcs max
Inventory reading time: Less than 10 seconds / 1000 items
Data connectivity: Ethernet / 4G Connectivity
Display: 10" Touchscreen
Technology: RAIN RFID, operating frequency 865-868 MHz
User management and access control
Remote Management